Blanched Peanut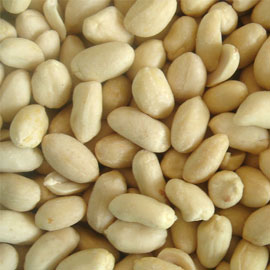 Blanched Peanuts available in whole and split form. It's produced by raw peanut and sourced from our trusted farmers and process in well equipped hygienic environments and finally packed meticulously to retain the freshness and the nutritional value of these peanuts.
Blanched Peanut
Blanched Peanuts without skin
Made from Bold Type 38/42, 40/50, 50/60, 60/70 Counts/Ounce
Types of Blanched Peanuts
Whole Blanched Peanuts
Split Blanched Peanuts
Whole Dark Roasted Blanched Peanuts
Split Dark Roasted Blanched Peanuts
Specifications
Origin:
Gujarat -India
Color:
White
Moisture:
4% max.
Splits:
15%
Red skin:
3% max.
Imperfect :
3% to 4%
Aflatoxin(B1+B2+G1+G2):
4 ppb max.
Packing Details
As per the Customer Requirement
PP Bag
Vacuum bag
Carton