Pulses & Beans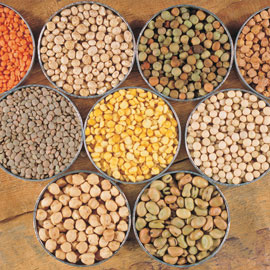 A pulse, sometimes called a "grain legume", is an annual leguminous crop yielding from one to twelve seeds of variable size, shape, and color within a pod. Pulses are used for food for humans and other animals.

Bean is a common name for large plant seeds used for human food or animal feed of several genera of the family Fabaceae.

We export and import different types of pulse and beans.
Pluses :
Chana Dal , Green Mung, Urad Dal Gota, Red Masoor, Mung Dal, Chick Peas, Black Lentil, Toor Dal, Chick Peas(Black) ,Crimson, Urad Dal Chilka, Toor Lemon, Urad Dal Split, Laird Lentils, etc..
Beans :
Broad Beans , Black Kidney Beans, Light Kidney Beans, Purple Kidney Beans, White Kidney Beans, Red Kidney Beans, Black Eye Beans, Small Kidney Beans , Yellow Kidney Beans, Cow Beans, Dark Red Beans, Fava Beans, Green Peas, Soya bean,etc...
Packing Details
PP bags
Gunny Bags
As per buyer requirement